Today, designing websites in WordPress block editor is a standard way of making a website in WordPress. Gutenberg editor is universal and easy to learn.
Citadela Blocks plugin extends standard WordPress editor with new unique blocks. The best thing is that Citadela Blocks are compatible with all modern block-based WordPress themes. That means that you can use Citadela Blocks with Citadela WordPress Theme or another 3rd party website.
What are Citadela blocks?
Citadela blocks are building units of a WordPress website. They let you add text, images, multimedia content, tables and much more to your site. Each block is editable. You can find the basic block set in the top left corner of the block itself and advanced settings in Inspector. Block Inspector is on the right-hand side menu in wp-admin. Just choose the block you want to edit to see the available options.
---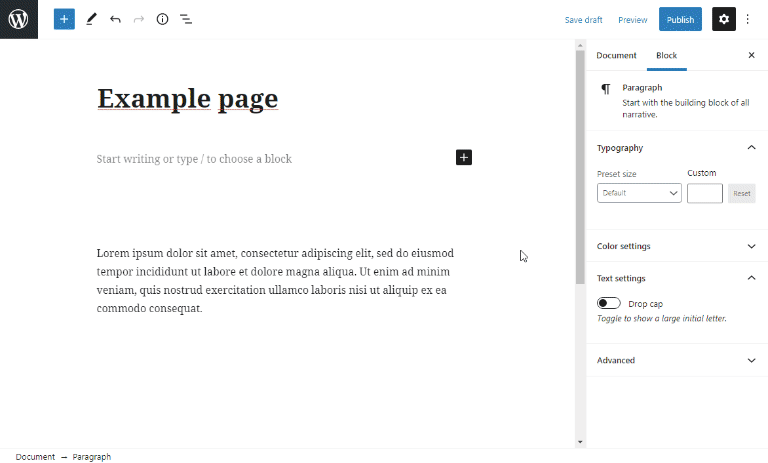 WordPress Blocks Administration
Core WordPress blocks
WordPress comes with an original set of blocks you can build a decent website with. They're divided into the following sections:
Text Blocks
(Paragraph, Heading, List, Quote, Code, Classic, Preformatted, Pullquote, Table, Verse)
Media blocks
(Image, Gallery, Audio, Cover, File, Media & Text, Video)
Design blocks
(Buttons, Columns, Group, More, Page Break, Separator, Spacer)
Widgets blocks
(Shortcode, Archives, Calendar, Categories, Custom HTML, Latest Comments, Latest Posts, RSS, Search, Social Icons, Tag Cloud)
Embed blocks
(Embed, Twitter, Youtube, Facebook, Instagram, WordPress, SoundCloud, Spotify, Flickr, Vimeo, etc.)
How to add a block to the page in WordPress?
Adding and reordering blocks on the page or within a blog post is simple: click on the plus button located in the left top corner of your page. Then find a block you need in the displayed list of blocks. You can also search for a block using a search row.
How to reorder WordPress blocks? Click on the block you want to move and use the arrows displayed in the block menu to move the block up or down.
---
WordPress plugins that add blocks
Even though the list of the original WordPress blocks is pretty long, there are some essential functionalities missing among them. When you find yourself in a situation that you cannot do or style something the way you need, it's time to look for a WordPress plugin that will extend your Block Editor by adding more blocks.
Main Advantages
of Citadela Blocks
Citadela Blocks is a state of the art plugin that we continually work on to reflect the needs of websites for specific businesses. It's based on 12 years of web creation experience in our team of developers and web designers. Therefore the main advantages include:
Extends WP editor with more gutenberg WordPress blocks
High compatibility with all WordPress themes built on WordPress 5.2 and above
New blocks added regularly
Based on latest trends and specific business needs
Well coded, using standard WordPress code and best practices
Responsive WordPress blocks
Universal plugin suitable for all modern gutenberg themes
No 3rd party page builder needed
Cluster block
Important design and functional element on any website: Cluster or Block of Blocks. You can add multiple blocks into the Cluster block and set the alignment and background. This unique container is perfect for blocks grouping.
Alignment options for the Cluster block:
Content size
Wide size
Fullwidth size
More settings of Cluster block
You can set their background colour or even background image after you group blocks on your WordPress website. Moreover, you can define border, shadow, specific height and width. You can fill in the Additional CSS Class section (suitable for advanced users) and more.
Responsive options are available when an image is set up as a background. It helps you to design a website in a better way for mobile devices. You have available several parameters. Also, you can choose smaller image sizes for mobile devices and speed uploading time. Change the image for mobile resolution through the block toolbar.
Opening Hours block
This same specific WordPress block will make building your website faster and easier. Add Opening Hours WordPress block on any page you like and fill in the particular time slots. In the block's settings on your right-hand side, there's an option to hide empty days and various colour settings in Inspector. Handy.
The opening hours block doesn't come with the title, so don't forget to add one by using regular Heading or Paragraph block. This way, you can use the Opening hours block for call centre availability or support hours too.
Custom Page Title block
The page title and subtitle block that you can use anywhere on the web page. The idea behind the Custom Page Title block is to increase the variety of your page's layout. A simple option, such as moving the title and subtitle further down the page, will allow you to light up your website with an image or a map at the top.
Custom page title Includes basic alignment settings (Align Left, Center, Right), bold and italic font style and space for typing in the subtitle. The title itself will be automatically copied from the actual page title, so go there if you want to change it. Then hide the page title in the page settings, and you're all set.
There's also an option to add a hyperlink if you want to bring visitors to any other page or website.
Price Table WordPress block
Display prices, special offers and featured items using the Price table block. This genuinely unique Citadela WordPress block has been designed for you to present deals in a way that cannot be overlooked. Group Price table block with an image using Cluster block for even better results.
Price table block features:
Multiple text entries:
title, subtitle, price, product description rows
Featured item mark
Discount price field for showing old and new prices next to each other
CTA button (buy now)
Customization settings of Price table block
Unlimited colour picker:
Header background, Header text, Button background, Button text
Button settings:
Smooth switcher between round and angled button edges, Open link in new tab option
Service block
Special block that lets you create an overview of your offered services. Service block includes icon, title, subtitle and description, which you can link to a subpage of your choice.
You can use several service blocks grouped using cluster block not only to list your services. They're perfect for any of your product presentation pages, too!
Using grouped service blocks, you can create an overview of subscription packages or arrange any content on your website (e.g. list the advantages of your product).
Responsive Spacer block
Airy web design increases the readability of your content and encourages your web visitors to stay on your website for a longer time. However, adding fixed spaces between page elements will ruin the mobile version of your website. Therefore we've created a responsive spacer as one of the first blocks added to our Citadela Blocks plugin.
Settings are simple. Choose unit and height. Height units for Responsive Spacer block are:
px, vw, vh, rem, em, %
An additional option is available for responsive design.
Choose this setting to modify block parameters for mobile resolution. Define breakpoint size, height unit and spacer height.
Responsive Text block
Typography on your website should be straightforward. Using 1 or 2 fonts is recommended. But what if you need to spice up the page with an extra font and style? The responsive text block will allow you to do just that. Add text with a different font to your WordPress website.
Settings let you choose:
Any of the Google fonts
HTML tag for your text
Font size
Line height
Letter spacing
Text colour
Background colour
Customize fancy text area on devices differently
Use responsive options to set up essential parameters for desktop and mobile separately. You have under control mobile width breakpoint size. You can regulate text alignment, font size unit, font size and line-height. Responsive typography block helps you to play with typography easily. Create eye-catching presentations.
This block is available on standard Page, Post or even Special Pages along with Citadela Directory Plugin.
Risk-free: 30 days money-back guarantee