After successful plugin installation you can find new settings in WordPress Customizer screen. Via main WordPress menu navigate to Appearance > Customize menu item to open Customizer screen.
Beside general WordPress Customizer tabs, you can find new tabs to customize your Citadela Theme: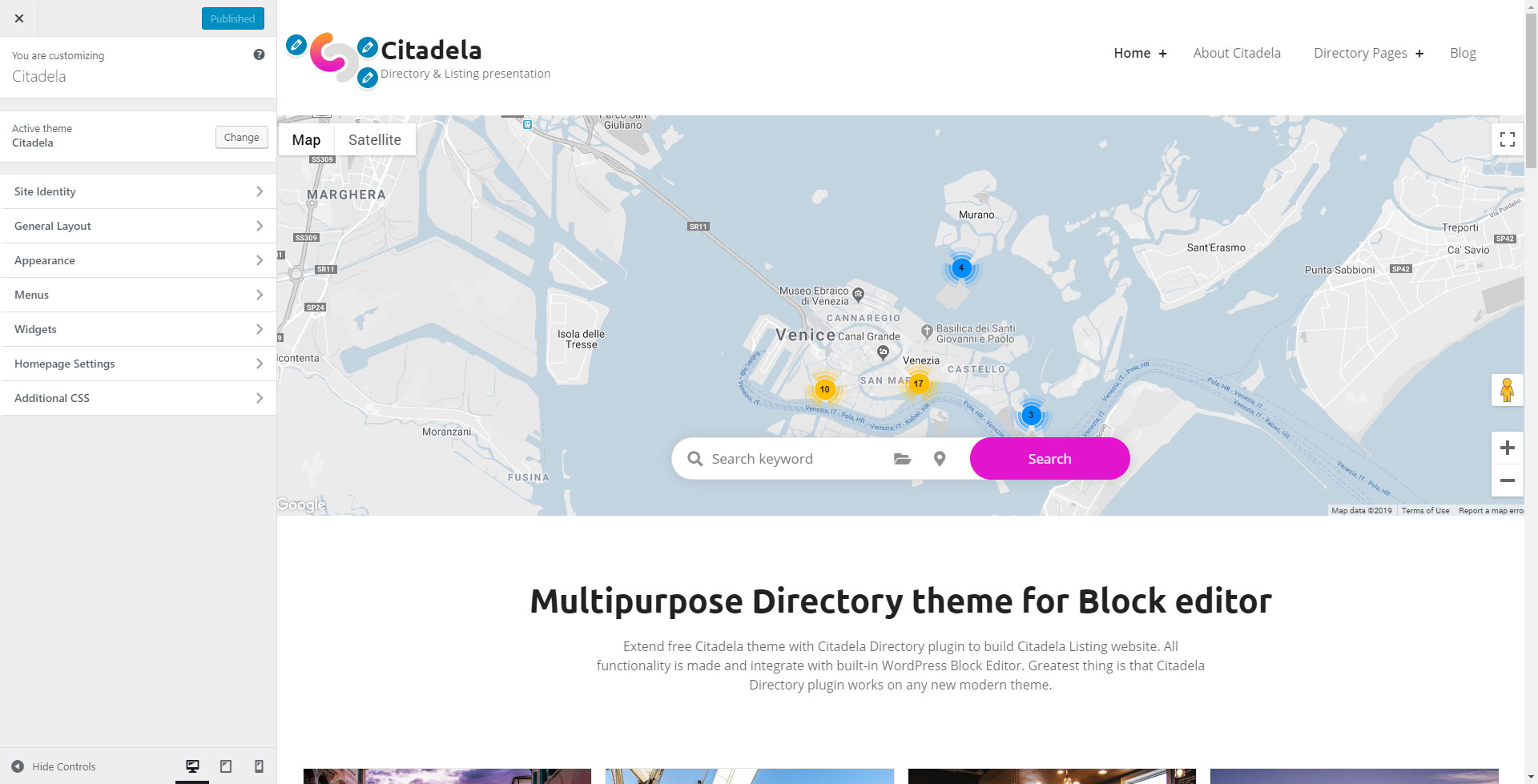 Site Identity tab
Via Site Identity tab you can set general information about your website like Site Title, Tagline, Logo image, Site image (usually used and known as favicon) and Footer text. Additionally you can hide site title and tagline to display only logo in header.
General Layout tab
Layout and design of website can be simply changed using options Theme Layout, Header Layout and Theme Design. Options allows you to select preferred look of your website. Available layouts and designs will be added continuously.
Content width sizes
Set your predefined width sizes for your content.
Available are three default size types:
content size
wide size
full size
Different content width sizes may be applied for example using Cluster block available in Citadela Blocks plugin, or default WordPress block Group. Width size can be selected from blocks toolbar.
Border radius options
Options to customize radius of website parts:
General Border Radius to define rounded corners of website parts.
Buttons Border Radius to define rounded corners for buttons.
Appearance tab
Appearance tab offer options to change colors, backgrounds and typography for your website.
Available are options:
Header Background – options allow you to upload image for header and define basic properties for image in background like repeating, size, position and fixed image option to keep image fixed during scroll. Color options for header are available too.
Colors – options to change main decoration colors of website, page content area and footer.
Typography – selection of Google Fonts, different font for content text and for titles. Available is also selection of custom font weight for titles.