Have you been wondering what are basic differences between particular Directory Themes? OK, they look different but is there anything else to look out for when deciding which Directory Theme to buy? Here comes the simple guide to directory WordPress Themes from our Club with Major Functionalities & Tips for Every Directory Portal. Hope it will answer all your questions and help you decide what is best for your. There's also handy comparison table at the end of this article for you with the most important features listed and ticked for each Theme.
The "Old" Directory Theme
There's no doubt that directory themes are revolutionary. Ait is proud to be the very first one to introduce this theme concept.There has never been easier way to create website with as many items listed as you want, giving your target audience all the information they need, everything in one place, with interactive map, eye catching look and what's even better for you that your customers will be adding more data to your website by themselves.
Directory was our first theme of this kind and it has been greatly improved since its first appearance. Old Directory theme was build on AIT Framework 1 that means it was a perfect tool for IT specialists who were building websites with WooCommerce, Categories, Locations and Directory Items.
"Old" Directory was a perfect tool for IT specialists building directory sites.
Directory+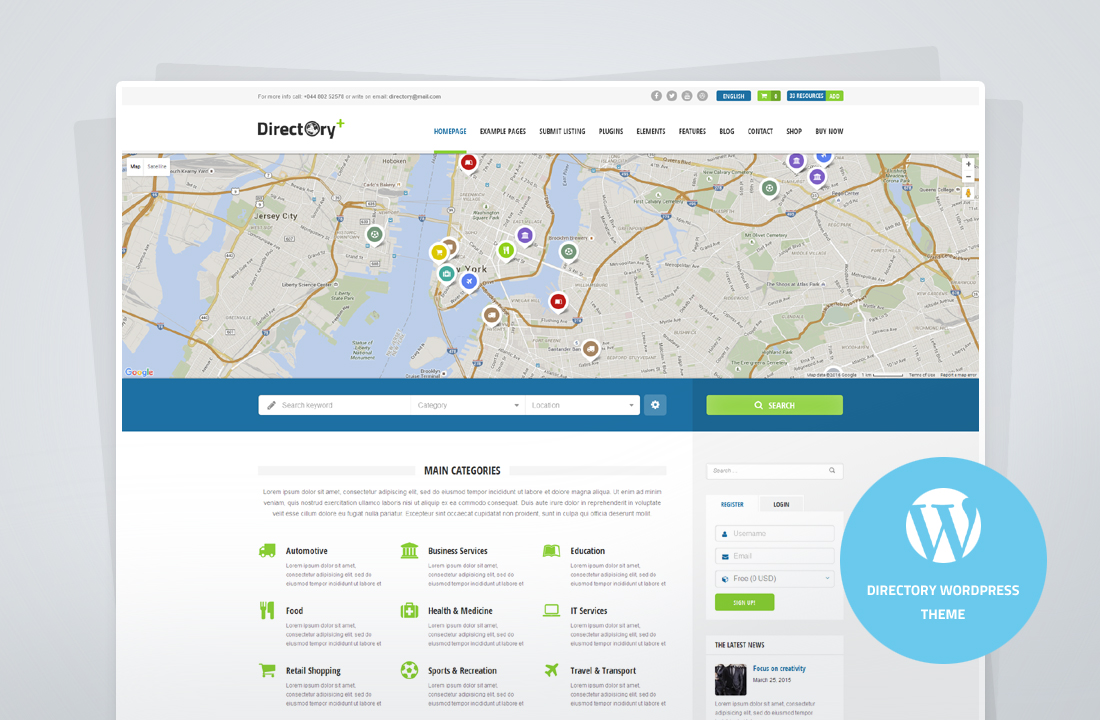 In August 2015 the Biggest Update Ever has been announced. Old Directory Theme has transformed to Directory+. User friendly and Responsive, full of new features, compatible with wide range of plugins and extensions. It's using AIT Framework 2 which makes this Theme accessible for anyone, even for laics without any programming knowledge. The most important feature of this framework is Page Builder allowing you to build and modify all pages as easily as "drag and drop."
Directory+ has all features and plugins compatibility you could possibly desire. It's easy to use with Page Builder and has very affordable price of 63$ for a single domain usage licence.
The original Directory Theme's had a great success. Thousands of people enjoyed using it and were coming back to us with big thanks and also gave us many ideas how to make it even better. By listening to our customer we started building Directory+ as a next generation of WordPress Theme. We made sure it mirrors all the latest trends in the industry and opens up to new possibilities of the future. It has everything that much-favoured modern website should have:
Responsive Design,
SEO Tools,
Designed WooCommerce,
Directory Items, Categories, Locations
Featured Items – this is a tool for you to create packages for your customers who want to have their items listed on your site,
Google Map with Street View, KM/Miles Support
Intuitive Searches with many options for you to choose from
Plugins compatibility to accommodate your individual website's needs and much more.
Directory+ and Business Finder are available for you to buy on Themeforest.net. Please note that the price is for single usage licence and does not include any additional plugins or extentions.
The "Old" Business Finder
Business Finder Theme has been inspired by the Directory theme and it has been developed with the intention of giving our customers variety of choices when it comes to design and style as well as improve functionality by adding more features for anyone who wanted to build and run an online directory portal. It was based on AIT Framework 1 but it had "easy admin" which made the administration of the site whole lot easier.
Business Finder offered more features than old Directory Theme and had fresh look and style.
Some of its great new functionalities are "Featured Items Listing" and "Packages" allowing owner of the website to create up to 5 special offer packages for their customer to choose from (and pay for). Business finder is compatible with WPML but doesn't include translations so you need to add them manually if you want to have website in more languages. Unlike City Guide and Event Guide where you can just install AIT Languages plugin and have multilingual ready website.
It also has:
Ability to change map color
Top rated items section
Newest items section
Reviews section
Social icons on item detail page
Gallery on item detail page
Please check out the comparison table below for more details on all features.
Business Finder is currently being rebuilt into AIT Framework 2 so it's just a matter of (not too long) time when it will offer even more for our customers.
Business Finder+

Finally, after long months of hard work and dedication Business Finder+ has been released on 1. June 2016. The original Business Finder has been rebuilt and remelted into AIT FrameWork 2, with easy to use, drag&drop Page Builder, very smooth design and modern functionalities.
Business Finder+ contains all the best of directory themes from AIT club and is also fully compatible with Special Offers plugin (available at extra cost) – the new way of promoting your clients by showing their special offers right on your directory portal site.
Here are some of the great features you can start enjoying right after upgrade to BF+:
Unlimited Packages in it's full potential. You can create as many user packages for your clients as you wish & collect a registration fee for each one too. Read more about user registration and packages options.
Integrated SEO tools that will help you optimize your website and make it easier for search engines to recognize and list it.
Megamenu – extended WordPress menu that will enlarge the customization potential of your website.
Video Header – probably the most eye catching header type there is.
Business view & 3D view of map.
Special Offers plugin compatibility. This plugin available at extra cost will let you set up a special offer for any of your items and it will be displayed only until its expiration date. Check out the full description of Special Offers plugin.
Multilingual ready WP theme, fully translated to more than 25 languages.
All our customers who own the old Business Finder can upgrade to Business Finder+ free of charge. Just follow our step-by-step migration guide which will protect your data and will open a door for you to a better look and cool new functionalities.
City Guide
The name of this theme sounds a bit limiting if you ask me. It's called City Guide but in fact it's pretty much universal theme with (almost) unlimited possibilities for building a catalogue or directory website. It's very similar to Directory+ so all advantages listed above apply here too. Few features are still under development like video header or business view so just keep that in mind when you're making a decision what to buy. In case you don't need those features right away, your choice is only a matter of taste as these two themes differ in design and style.
I need to emphasize that when it comes to functionality, this theme is very similar to Directory+. It's also based on AIT Framework 2 making the creation and administration of the website simple. You compose the basic layout in page builder, add as many AIT elements as you wish and after that, just upload nice images to complete the perfect look.
City Guide is universal theme and its functionality is similar to Directory+. You can get unlimited usage licence for just 75$ so you can build as many directory portals as you wish.
Responsive design and SEO tools is more of a matter of course nowadays so don't forget to set them up for your page. Two things that will greatly influence the look and functionality of your website are Megamenu and different types of Headers.
Megamenu is an extended WordPress menu that will help your site to be easy to navigate on. The way that you can sort and categorize items in your menu will definitely help to keep your directory portal neat. This is an important point for the huge website designed to hold tons of information.
Header gives visitors quick info what is the site about. It can make a difference between professional look and poor look of the site and it's usually the very first thing your visitors will see. Do not underestimate the first impression, make the most of it.
You can choose between these types of headers:
Revolution Slider – can be used to list the most attractive features of your directory or to provide tips on how to use it efficiently.
Image – static picture is not as informative as a slider but might help the site to load faster and can add up to the good first impression if chosen right.
Google Map – standard or colorized, with pins for the listed items. Very interactive and useful.
Street View – will help the site visitors to find their destination easier.
Compatible Plugins and Extensions
AIT Languages and Translations – 26 languages for you to choose from when you decide to have your website multilingual.
Get Directions – this is a chance to show your visitors that they don't need to go anywhere else for the information they want. It's just so convenient to have everything in one place.
Advanced Filters – sometimes you don't really know what you're looking for until you see those extended options. Help your visitors to learn what they want to find with this plugin.
PayPal Payments – secure and trusted.
Those are just the tips to show you what you can create with City Guide Theme. Please check the comparison table for the full list.
City Guide is available for you to buy on AIT-Themes.CLUB for 75$ which gives you unlimited usage license so you can build as many different portals with this theme as you like. What's even better that all AIT features and plugins come standard with premium membership so if you need few of them, it might be worth to consider buying membership rather than just single theme. You can always give it a try, as there's 30 days money back guarantee on single theme subscriptions. If you're happy and want more, you can choose the membership and only pay the difference of the price within those 30 days (more info).
Event Guide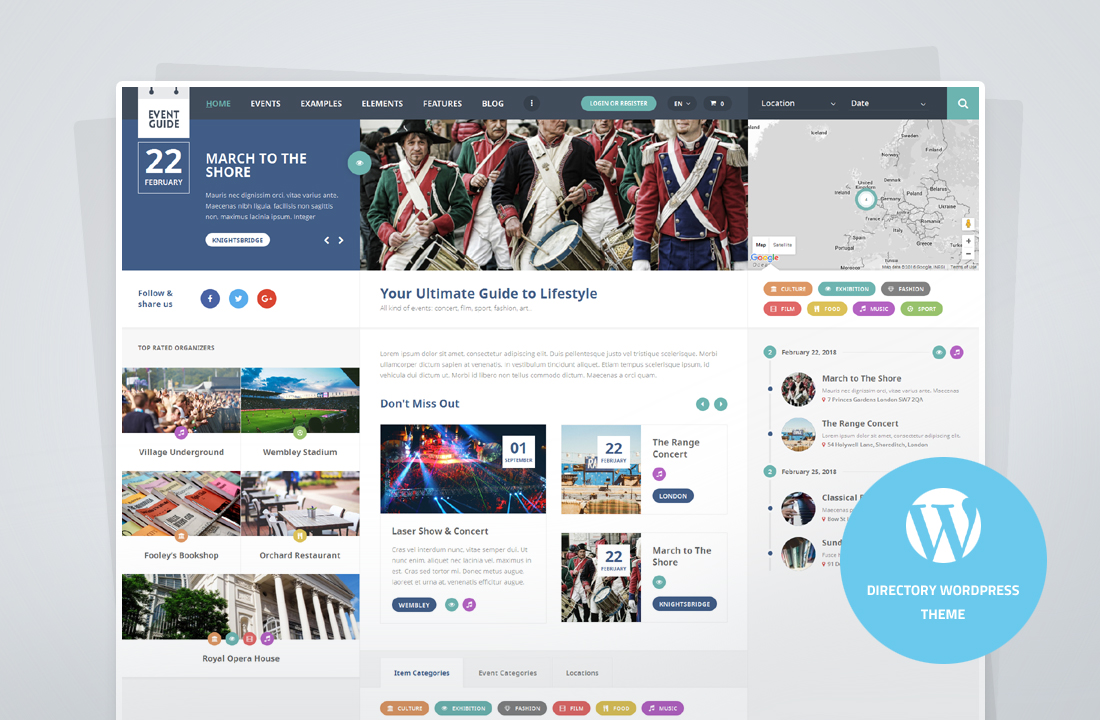 Another of the AIT-Themes.CLUB's directory themes but this one is a bit more specific. Basic difference between City Guide and Event Guide is that Event Guide is tailored made for websites promoting events. EventPro plugin is fully compatible with Event Guide and is available for you to buy at extra cost. EventPro plugin installed to this theme will allow you to switch the map view on your site to show all the events rather than just venues. It also has extended search and filter options. Thanks to that, you can look for particular event and the site will tell you where and when it happens.
Event Guide is your ultimate tool for creating directory with not only places but also events and their dates and times. Map view, search and filters are perfectly adjusted for event directory site so your visitors will find what they're looking for really fast.
Let's say, you want to create website that would list all pubs in the city. You can sort them to a different categories, eg. night clubs, great beer venues, cafés, places to chill out. Than you can add concerts and live music performances to particular places. When a visitor comes to your website, they don't need to know where the concert might be. They can simply check on the map, which concert is closest to them or just search by music style they like and decide where to go. They can search and filter by keyword (jazz), location (the Hell pub), category (live music) or date. Event dates can be exported to external calendar (Google, iCal, etc.) easily by visitors.
Event Guide also has Unlimited Packages, Featured Items Listing and WooCommerce. Let user register to your site and they can decide if they want free or paid package allowing them to promote their event and venue. You can even sell concert tickets directly on your site if you like.
Read all Features described directly on our product site to get an idea of what Event Guide has to offer.
You can get Event Guide on the AIT-Themes.CLUB for 75$ but it really makes sense to buy it together with Event Pro plugin (another 75$) as those two together gives you unlimited possibilities for building an "all events listed" site.
Food Guide
Food Guide is our newest addition to AIT Directory Themes portfolio. Its subtitle says Delicious Directory Theme and that is very accurate. I haven't seen so nicely designed and customized food Theme anywhere else. More hungry you are, more attracted you get to this Theme and possibilities it opens to you. Just imagine the directory portal with all the food around you listed and organized. All you have to do is choose. No more running around from one place to another trying to figure out what is where and how expensive it might be.
Food Guide is a Directory WordPress Theme which includes all key elements like directory items, categories, locations, featured items listing (and many more), extending the functionality to allow displaying food menus and restaurant's specials aside of location and other basic information.
What makes it special?
Great restaurants are proud of their chef's specials and menus and will not miss a chance to present it right on the directory portal. They know people are looking for delicious food and culinary adventure. The best new feature of Food Guide Theme is compatibility with Food Menu Plugin (available at extra cost). Because this Theme is not only about places where to eat, it's about what to eat too.  With Food Menu Plugin, restaurants can add their food menu, a-la-carte or specials right to your portal together with the photos, prices and amounts.
Everything is neatly organized, sorted to categories and can be filtered right on your portal. Do you fancy some Italian pasta today? Or are you starved and want to know the nearest place to eat? It's easy to set time limited or recurring offers on the site too.
Map and Search is as advanced as it should be on all directory sites. There's search by keyword, category or location available right on the home page (if you want) and you can go by geolocation to see all the yummy meals right beside you as well. Another great feature of Food Guide is Taxonomy Menu. This is a special kind of all-the-time-visible menu that will make your portal easier to navigate on and will attract visitor's attention to the most important part of your site. Taxonomy Menu allows you to filter items showed on the header map in "real time" and with Food Menu Plugin installed, you can even filter by price category. Your site visitors will love this feature as it'll save them loads of time when choosing the right venue for them.
Default layout of Theme is 50/50 with map (or main image/header) on right hand side and website content on left hand side. This does not affect responsiveness of the website, it will still display correctly on all devices, it's been tested and verified. You can still choose fullwidth layout if you prefer as it's fully supported by Food Guide Theme too.
Food Guide Theme and Food Menu plugin are included in AIT Premium Membership as standard altogether with Multilingual version of Food Guide Theme. If you decide to go for single theme only, it will cost you $75 plus Food Menu plugin for another $75, all for unlimited usage license – that means you can create as many Food Guide portals as you want.
Get all themes and plugins for only $209 with our Premium Membership
Visit our pricing and sign up site to consider joining our club as business or premium member too.