It's been quite time since we started creating themes for Themeforest community. We've just passed amazing 2000 days and during this long time we've released thousands of updates to all our WordPress themes. During these 5 years we've also invented many new and unique features and themes. One of them was also Directory WordPress theme. This unique theme, the very first one on themeforest have opened doors to online business to almost 10.000 people. It's not a generic theme like any other, it's a tool that will power your entire online business and allows you to achieve passive income. We're very proud that we were the very first ones with this theme concept. We were listening to our customers and created very unusual theme update.
Why (un)usual update?
We could release Directory+ theme as a brand new theme, completely separated from the old one. Directory+ package includes several years of hard work of the whole AIT team. Our idea is to support each other and therefore all our existing Directory customers can migrate their Directory powered websites to the brand new Directory+ theme for free. In order to be able to provide support and updates also in the future we need support from your side.
All existing customers get new Directory+ theme free of charge
Brand new 2015 look and many new features
You can extend your existing website with wide range of innovative plugins
Let's have a look at what's new in Directory+ WordPress theme. What features were added and what features you can find as plugins:
18 new features such as Fully responsive design, AIT Page Builder, Video Header, Miles/Km support, etc.
Great futuristic features like 3D Map and Business View. Featured item listings and Colorized google maps.
Compatibility with AIT Languages multilingual plugin where for the price of 1 plugin you'll get not only multilingual support but also language translations. These translations are continuously added and updated by translation professionals.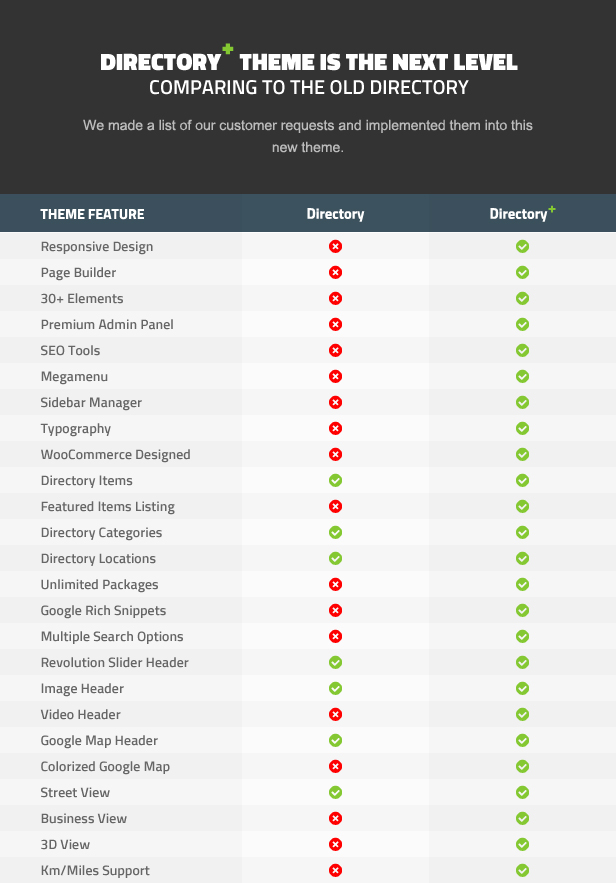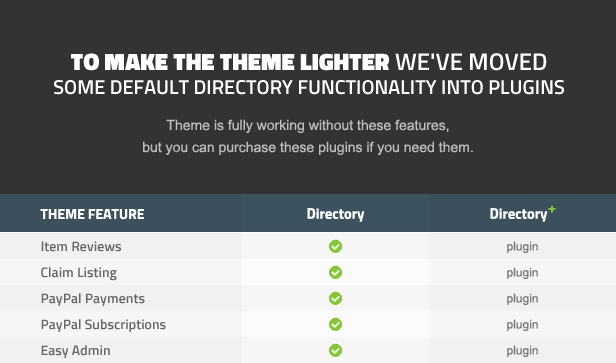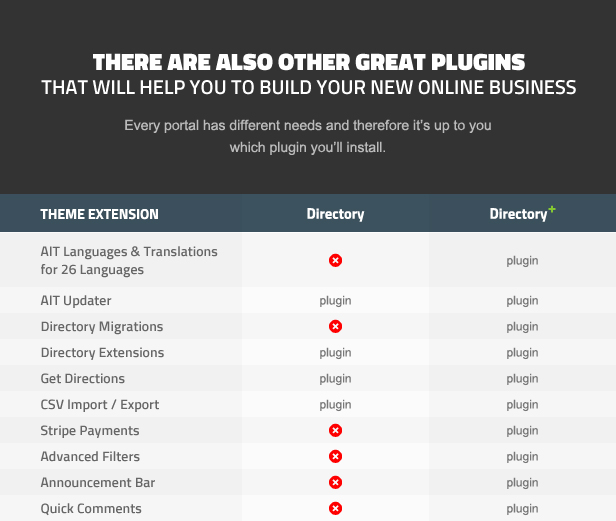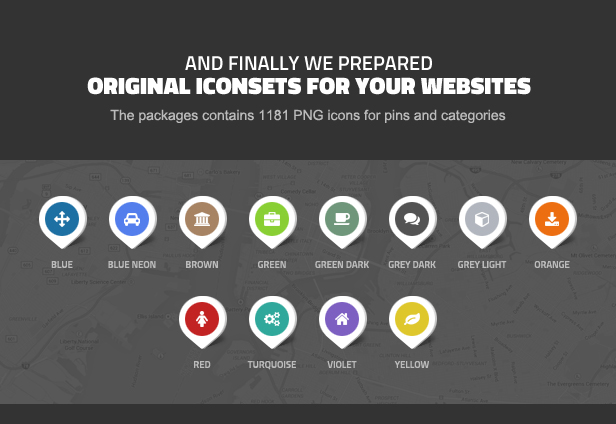 Why plugins?
Every project is different and has different needs. Not everyone needs multilingual support, payment gateways or bulk data import. We've separated these features and created individual plugins. We're also working on new directory portal oriented WordPress themes with new unique look and features. Did you know that license for all our products on www.ait-themes.club is for unlimited websites and usage? You can use all plugins not only with our Directory+ and City Guide WordPress theme, but also with themes that are currently under development.
Directory+ theme is built on our AIT Framework 2 which is continuously developed since 2012. Whole philosophy is built on wide range of settings, page builder and multilingual support. We've created a tool to create almost any website. Directory+ theme is fully loaded multi-purpose theme you can use for any kind of website.
What are advantages of plugins?
Plugins are and will be compatible with all our new directory portal oriented themes. We currently have 2 portal themes, but we will be releasing new ones on upcoming months.
There's unlimited website and project usage. You'll buy the plugin once and use it on unlimited projects.
For those that don't like limits
Premium Membership is our biggest package for the best price you can find. Get access to all our products on www.ait-themes.club for only $89.
For $89 you'll get:
71 Themes
30 Plugins
183 Graphics
28 Languages
Why is it great to become Premium Member?
With Premium Membership you'll get
1 year access to updates
1 year technical support
1 year access to all new products
Lifetime theme or product usage
Theme or product can be used on unlimited websites
Lifetime membership price guarantee for upcoming years
What makes us special
Easy but powerful Ait Page Builder
14 themes fully translated into 26 languages
30+ elements to create any kind of website
Sidebar manager with unlimited widget areas
Easy style & layout change of your website and all elements
Contact form, Easy slider and many, many more
Free Migration plugin to migrate from Directory to Directory+
With the help of AIT Migration plugin that you can download for free you can migrate your data from Directory to Directory+ theme in a couple of clicks. As Directory+ is built on a completely different framework, it's important to set up all your directory packages, PayPal credentials or other settings like colors, logo or header settings.
It's important to follow steps from the documentation in order to migrate your data correctly from the old custom post type to the new one.