In this Best Free WordPress themes 2019 edition I've prepared the selection of our best templates. WordPress themes are usually very variable and flexible. It's hard to say from demo preview which one is the best for you. It also depends on what exactly do you expect from the best free WordPress theme.
In this article I'll try to summarize the most essential characteristics of the themes to help you understand the differences between them and to indentify the best fit for your project, personal site or business needs.
Denko WordPress theme 
(downloaded 3600+ times)
If you're looking for some space to breath, Denko is the best choice for you. It's a theme with very elegant, yet clean and spacy design. It doesn't recall typical WP site. That's what makes this theme special.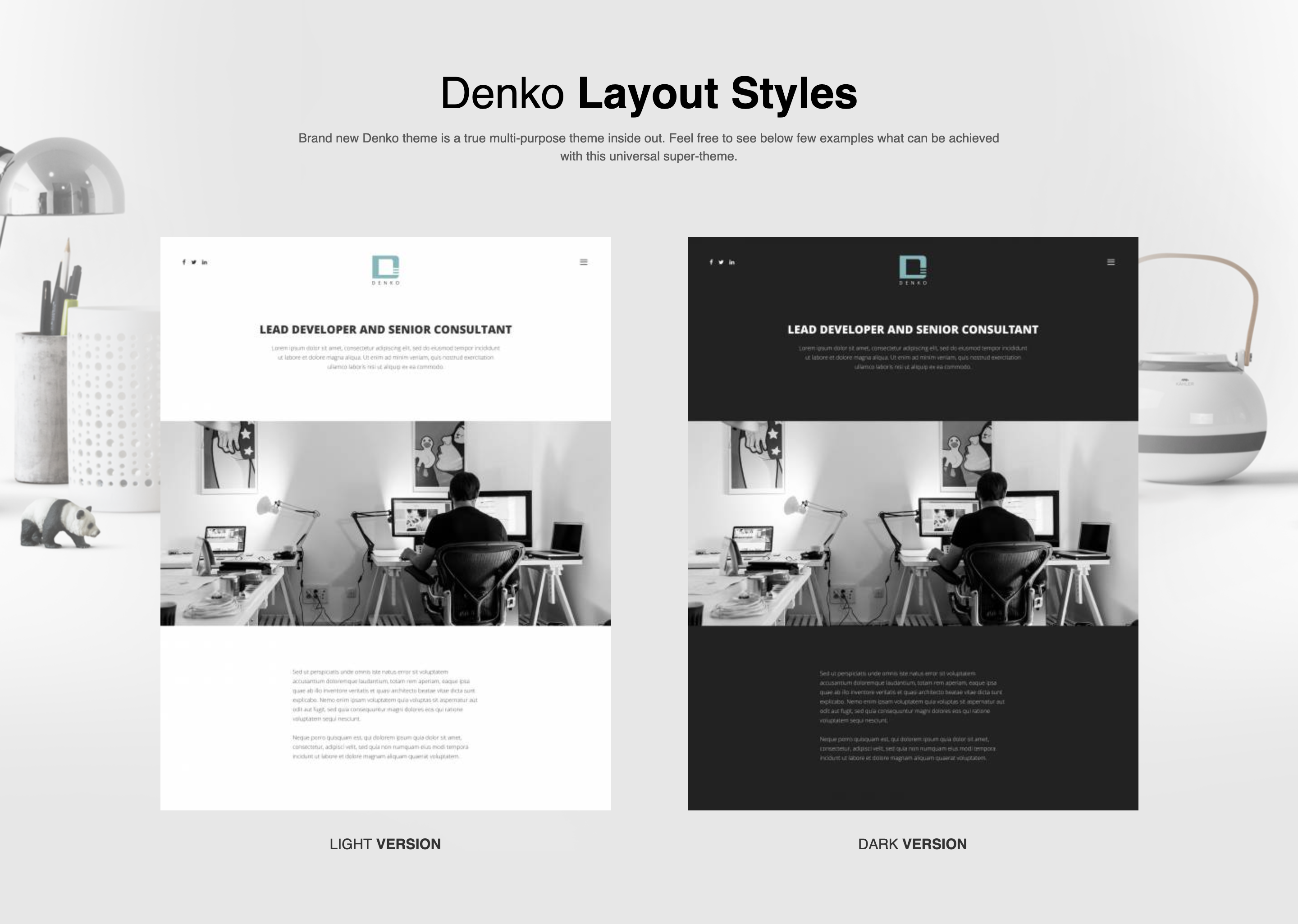 Denko WordPress theme header area contains social icons, logo and menu, followed by your company name and/or branding message. Typography of Denko theme has been designed to maximize website's readabity and improve user experience of your web visitors. The theme promotes minimalism. It's focused around good navigation and visibility of the most essential information.
Most important characteristics of Denko WordPress theme:
Clean and spacy design

Light & dark variant of the theme color scheme

Fully responsive design

Typography for readability

Suitable for sites with less content
With Denko theme, you can create beautiful online presentation, even if you don't have tons of content. It's fully responsive, so it'll look good on all devices. You can choose between light or dark variant of the theme. In combination with your brand color, you can create very impressive, yet simple and easy to use website.
Get Denko Theme
Langwitch WordPress theme
(downloaded 19000 times)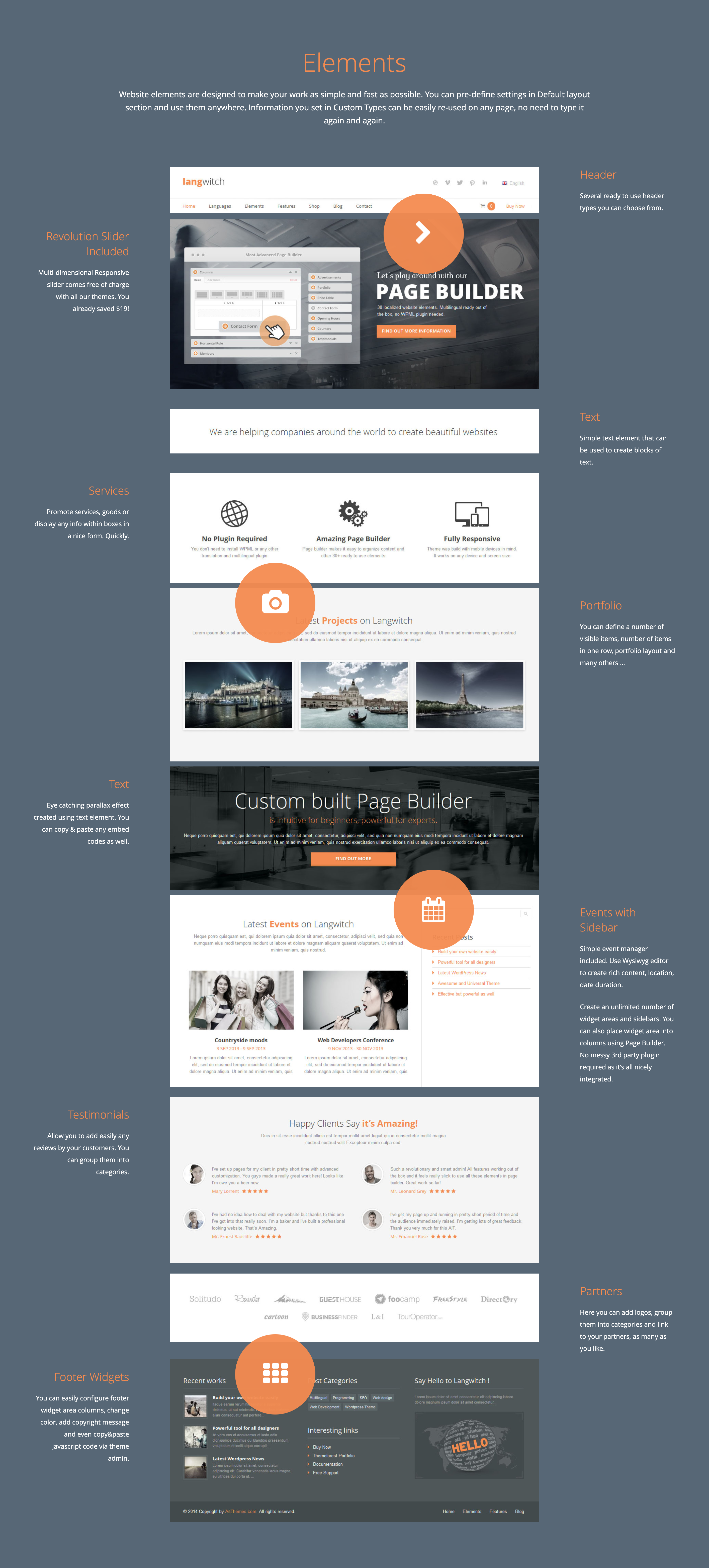 Langwith WP theme has been designed with your business in mind. It will allow you to create website quickly and hassle free. It's suitable for your local business, e-commerce website or your personal blog. You can choose between different home page variants that include easy slider, big slider or you can design your own home page according to your needs with drag and drop page builder.
Best features of Langwitch theme:
Flexibility and customisation options

Suitable for e-commerce websites

Fully translated to multiple languages (with Ait Languages Plugin, available at extra costs)

Full-width slider (Revolution slider) included in full version of the theme

Responsive design
Langwitch WP theme is compatible with WooCommerce plugin, leading brand plugin for e-commerce. You can start selling digital or physical products online any time.
If you need multi language website, Langwitch theme together with Ait Languages plugin is the easiest way to build website in multiple languages. You can translate your website to as many languages as you want.
Multilingual plugin Ait Languages includes 28 language translations, ready to use, without the use of PO files.
Langwitch WordPress theme includes Revolution slider. It's a full-width slider for creating eye catching presentation of most interesting features you want your web visitors to see. It will encourage your web visitors to visit the most popular page on your website. It's a dynamic Call to Action point that can increase Dwell time of your website and drop the bounce rate.
Get Langwitch Theme
Architect WordPress theme
(downloaded 4300 times)
Architect is business specific WordPress theme form Ait-themes that will enable you to create astonishing website presenting your work as an Architect, designer or artist. It's focused on perfection. The theme itself is very flexible and SEO friendly. It's fully customisable with integrated page builder with over 30 elements.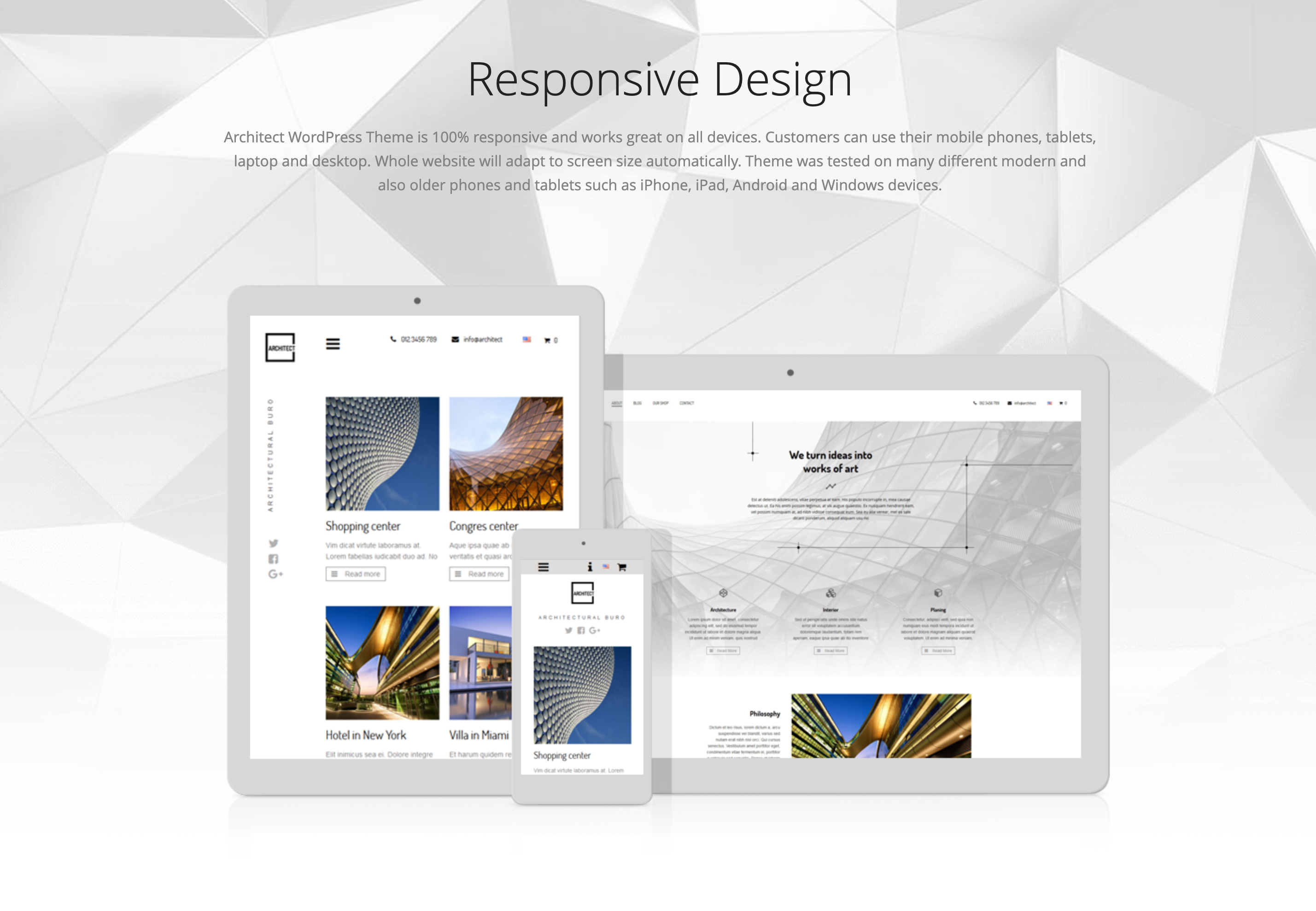 What does WordPress theme for Architects include?
Professional design focused on perfection

Unlimited color schemes

Unique services and portfolio elements

Promotion element with CTA button, image and description

Responsive design

Great compatibility with third party plugins such as WooCommerce, Revolution slider and many other
Architect WP theme can be used to present your work, your unique ideas or you can build an e-shop for your artwork. Unlimited color schemes will let you apply your very own sense for a neat design to make the website look unique and interesting.
Architect WordPress theme has a very nicely designed portfolio with professional look and high attention to details. It's a visual presentation with image, excerpt and button. The theme integrates with WooCommerce too, so you can use it to sell your artwork.
Get Architect Theme
Multi-author blog WordPress theme
(downloaded 7300+ times)
Have you ever thought of creating something more than just a blog using simple WordPress theme? How about you and all your friends with similar interests published interesting, nice to read articles full of useful information? All published on one website – live multi author blogging portal! Creating blogging websites has been a primary purpose of WordPress, after all. Cumulate the value for web visitors and blog about modern technology, cooking, fitness, traveling or anything you're into.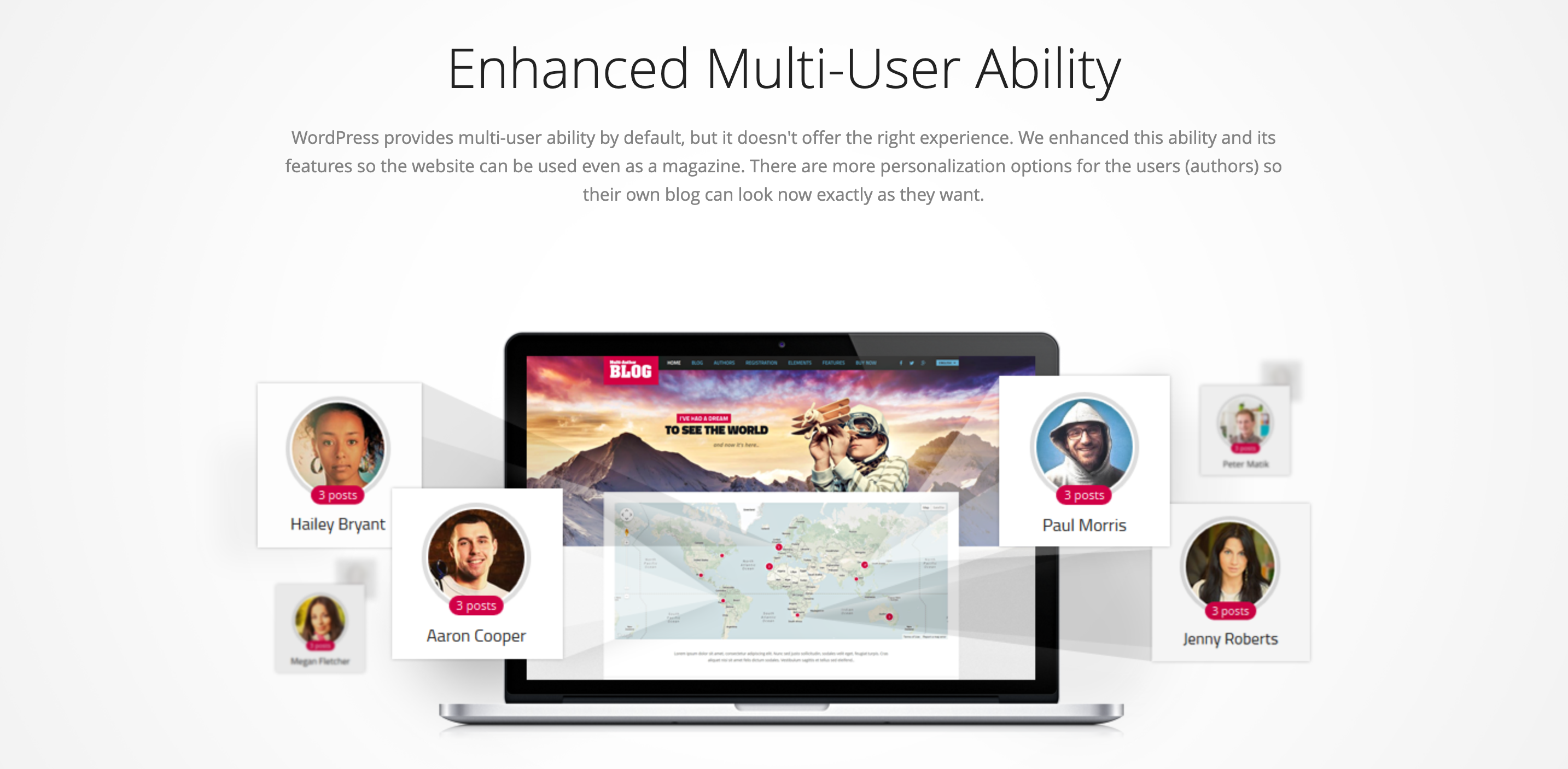 Key features of Multi-author blog theme:
Elaborated multi-user WordPress functionality

Drag and drop page builder

Integrated social icons

Showcase of all authors

Responsive design
Multi-author blog theme is specially designed for creating shared blog for many users. Each of them will get access to their own account and can build their personalized blog. All together they will build an online magazine people will love.
Default multi-user WordPress functionality is greatly enhanced in Multi-author blog theme, providing user with more options for personalization. Each author can stand out from the crowd and be recognized by his own design signature. You can even include map to show where are the authors from or what places they've visited and written about in their articles.
Get Multi-author Blog Theme
Widescreen WordPress theme
(downloaded 6400+ times)
Widescreen WordPress theme is a perfect choice for showcasing your portfolio, in ANY industry. You can create beautiful photography portfolio or e-shop with unique product pages.

Multiple home page variants will give you an opportunity to create tailor-made website for your business. Basic home page options include variants with portfolio items, background slider and home page with header image. However your options are unlimited when you start playing around with a page builder stuffed with elements.
The best of Widescreen WordPress theme:
Multiple home page variants,

Media elements that will integrate multimedia content from different platforms

Flexibility and variability

Woocommerce compatibility

Integrated social icons

Full responsiveness that ensures the use of all the space of your screen
Widescreen WP theme will help you make the most of any size of screen, starting with TV, going down to desktop, laptop, tablet and mobile phone. Responsiveness is an absolute must and you can laverage from it too.
Another interesting integrated part of Widescreen WordPress theme is a media element. It will let you embed your work from various platforms such as YouTube, Vimeo, SoundCloud, Mixcloud and more.
Get Widescreen Theme
How do the Best Free WordPress Themes by AitThemes work
We have prepared a free version of all our premium or portal themes for each one of our customers. Thanks to this you can try any theme prior subscribing to Full Membership. Create a simple website using free WordPress theme with a peace of mind that the theme is regularly updated and supported.
What can the free WordPress themes be used for?
Trial version for testing purposes
If you're planning on building a complex business website, you need a reliable WordPress theme from trusted developer, compatible with common WordPress plugins. Before you buy the theme, you want to be sure that it's exactly what you're looking for.
The free theme trial version can be used for testing of the product:
You can check how the theme looks like exactly,

Get familiar with its administration,

You can try the settings in the Theme Options section,

Find out, if the theme suits your needs – from the visual as well as the technical point of view.
Make sure the theme meets your expectations before you invest your time and energy into building your entire website.
The best free theme contains everything what can be found in its full version, only some of its parts are not fully displayed (greyed out). These items get activated once the theme is upgraded to the full version.
Nevertheless the structure and location of individual elements & plugins is preserved therefore you can see all the theme elements and their arrangement. Thanks to this you have a great idea how the full version of your chosen WordPress theme looks like.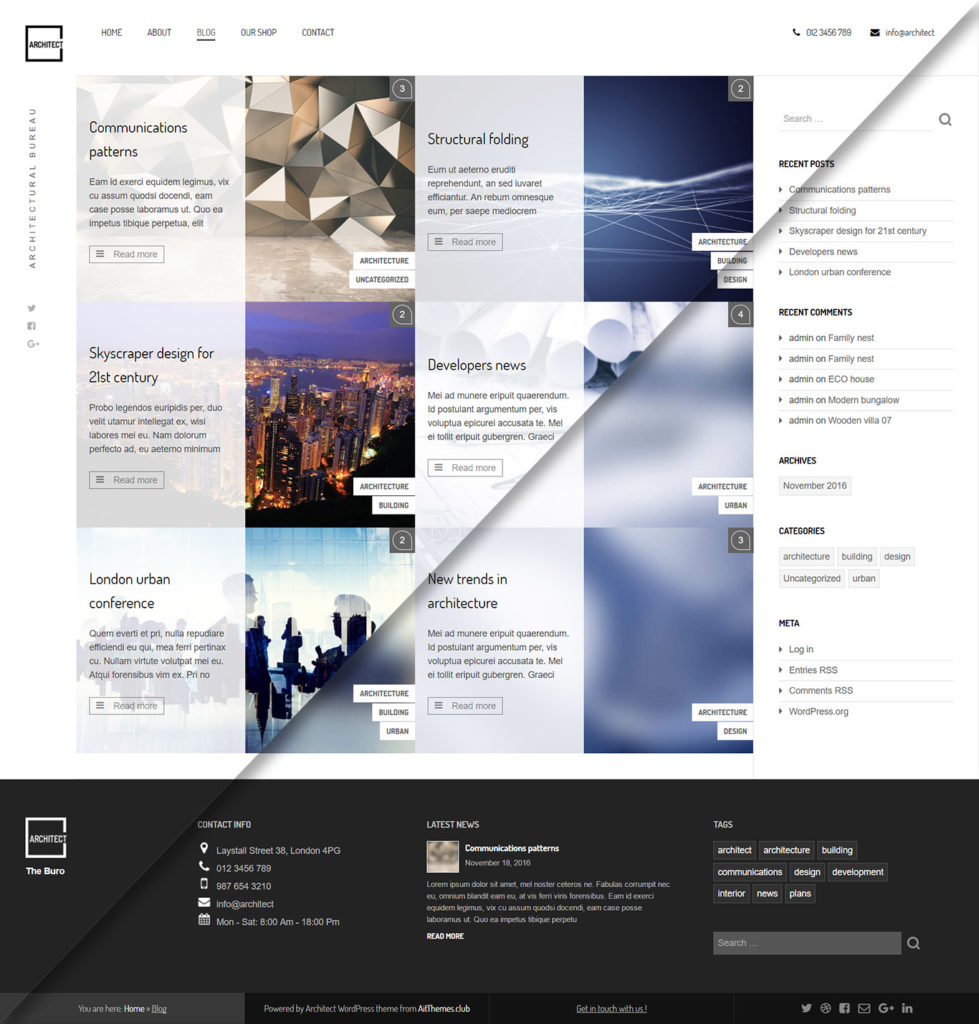 Full-featured personal website for non-commercial use
Apart from the theme testing itself, you can use the Free theme to create your own website for your own personal presentation.
In case you're just starting out and want to create nicely looking website with low initial costs, free themes from Ait-themes are the right choice for you.
I strongly recommend you to build your website using best free theme with possibility of upgrade to a full commercial version of the same theme. This will save you loads of trouble in the future, e.g. when you're ready to move forward, monetize or need more website building options in your theme admin.
Trial version gives you full-featured:
Posts

Pages

Content

General layout settings

Import of demo content for upload of your own prearranged content
Thanks to AitThemes you get the best premium free theme for non-commercial use and you can switch to commercial use anytime without the need for redesign or without losing any content.
Added value of Free AitThemes
Main difference between our AitThemes and other free themes, which can be found e.g. on WordPress.org, is the utilisation of our themes for personal websites.
The themes downloaded from WordPress.org have very limited functionality and the websites that are built using these free themes cannot be fully used in real world.
On the contrary, Ait Free themes let you create full-featured personal presentation that can be published online without any problems and that can be continuously worked with in a simplified way.
Why are AIT Free themes better than WordPress.org free themes
Security – regular security and functionality updates
Reliability – bug fixes
Reputability – no anonymity, themes are developed by a reliable company that has more than 10 years of experience
Beauty – unique design created by professional designers
Variability – possibility to import own demo content
Configurability – full access to Theme Options
Extensibility – possibility to upgrade to Full Membership with new features suitable for business use
Once you subscribe to Full Membership, you gain access to support, technical documentation and Knowledge Base with detailed video tutorials that can help you with getting your theme set up.
Do you have your Free theme already and do you like it?
FAQ about Free Themes
Why my Free theme doesn't look exactly like the Preview of the theme?
Free theme has some limitations as it is a trial version and some of the elements aren't available. You need to buy Full Membership in order to activate the full version with all the available elements.
Import of demo content doesn't work. Is the upload of own content to Free theme restricted?
No. Even when using our Free theme it is possible to import demo content without any restrictions. If the import doesn't work, there might be an issue with your hosting settings. Please contact your hosting provider.
What does it mean that the Free theme is only for non-commercial use?
It means that you can use the Free theme for creation of your own website for your own personal presentation. Free theme cannot be used for commercial purposes – e.g. for building of business websites for your clients.
If I create my website via Free theme first and then I buy Full Membership, do I have to start loading my content all over again?
No. You can update your theme directly from the administration interface of your Free theme. All your saved data and content will remain on your website. You don't need to re-build your content and settings. Furthermore the elements and plugins that were not available (greyed out) when the theme was Free, get activated automatically.
Will I get updates for my Free theme?
Yes. Updates are provided for all our Free themes – you can fully enjoy your theme with confidence.