Our best directory website template for WordPress come with dozes of useful options to customise your portal website to your needs. Theme Options are the key tool for portal website owner (administrator) providing the place for definition of basic and advanced parameters which are to be included on the website. Other functionalities like plugins, catalogue items, packages etc. all depend on the parameters set up in Theme Options.
What can be set up in Theme Options
Theme Options are used for setting up framework settings for front-end visual of the web page as well as the functionality of the website as such. In General settings administrator can set the Layout type of the website, insert the Favicon, set the colour of the background, links etc. via colorpicker. You can also change the Header and Footer settings. There's an explanation for each of the items and the relevant parameters that can be set up here.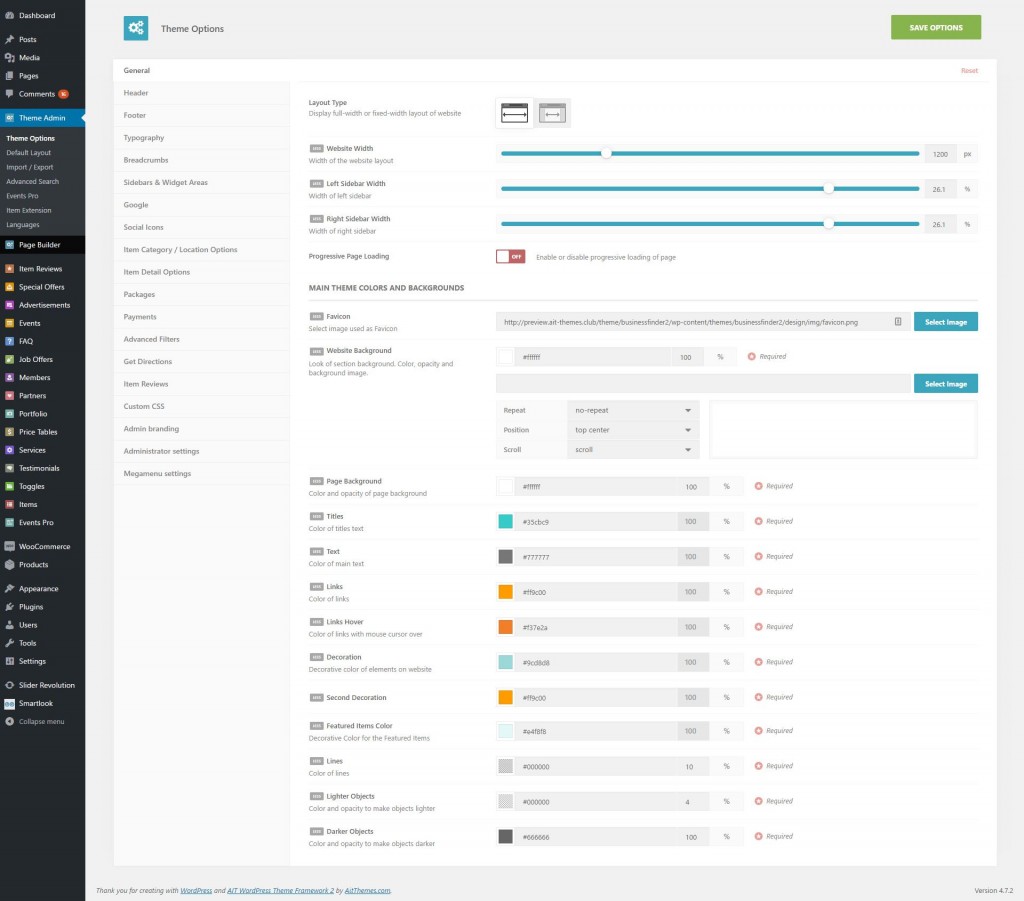 Theme Options interface was designed in the most user-friendly way to simplify the administration of the website. The detailed information on all the various settings can be found in our documentation.
Unique features not included in other admin interfaces
(few examples)
This feature of Theme Options interface provides complex administration of Sidebars & Widgets Areas i.e. creation and deletion of different Sidebar/Widget area types. These Sidebars and Widgets created here can then be picked up when building the website using Page Builder. They can be activated on specific pages where appropriate and deactivated on those sub-pages where they are not relevant.
Page Builder -> Selected Page -> Columnable Elements -> Widget Area
Addition of Social Icons in just a few seconds
Most of our competitors provide portal themes that let users to activate just one from the predefined list of most common social networks… Facebook, Twitter, perhaps Google+. If you need to include other social networks which are not included in the list, you have to edit the website code directly. This is a very time consuming and painful process and requires more advanced technical skills.
Our portal themes will let you add any social network directly via admin interface within Theme Options section -> Social Icons. Adding of Social Icons has never been easier before. You can just click on the network, insert link and that's it.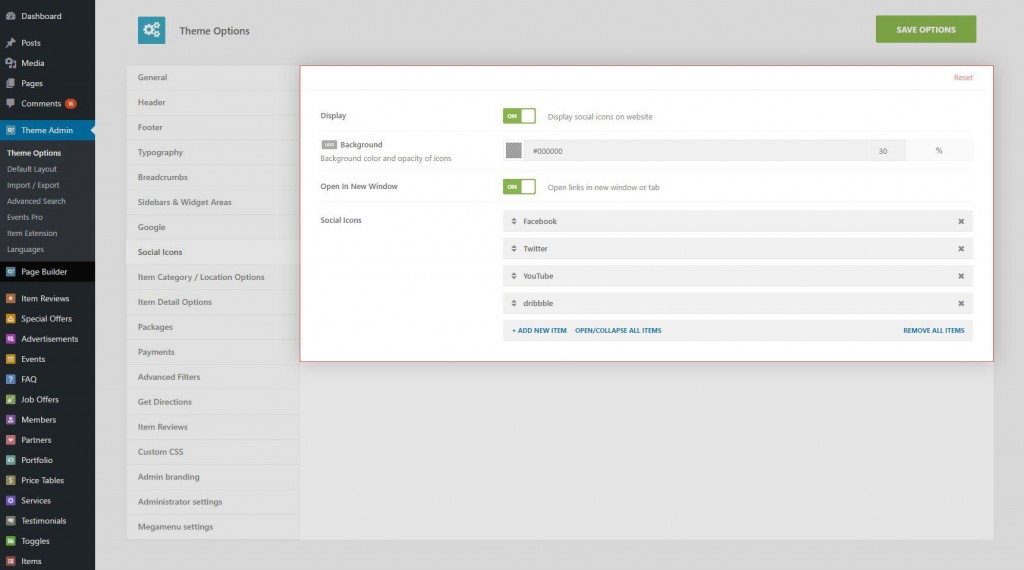 Do you need to add a social network which is not included in the predefined list?
Click on +add new item, enter the required data and social network is automatically created. Thanks to Font Awesome integration you can assign social icon to your social network.
Try any of our portal themes for free
Now you have the opportunity to take a close look at one of our best selling portal theme – Directory+ (limited version), so that you can get familiar with some of the settings in Theme Options.
Download for FREE
In case you like the theme and you would like to get the unlimited full-featured version of Business Finder+ theme, you can purchase:
Full Membership – gain all our AIT WordPress themes, plugins and graphics for the price of 1 theme!