Here's some good news for everyone who doesn't like monotonous tasks.
From now on, updates of your themes and plugins will be automated.
You know it well:
There's new WordPress update available for your purchased premium theme or plugin. You're glad to see security enhancements, addition of new functionalities, bug fixes etc. You know your website will be secure. Than you realize all that boring process of theme or plugin update installation is ahead of you all over again.
Stop, stop, stop
we said at our AitThemes team and prepared automated updates for all our clients.
Comfortable automated updates with AIT Themes from now on.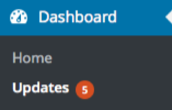 Whenever you login to wp-admin of your website you'll see the notification on new version of AIT theme and AIT plugin.These notifications will appear in section Appearance, Plugins and also under Dashboard-Updates. Going forward all new updates will be listed here too. If there's more than one update available just tick them all and click "Update Plugins" button. Please read all the important information like: your current version of Theme, new available version, list of changes, issue date and other notifications. You can check the details in pop-up "View version details."
Depending on scope of changes we've made there will be updates available for plugins, themes or both. You will see in Dashboard directly what needs to be updated. Thanks to that, there will be no need for manual upload of AIT Themes, plugins or Revolution slider and their one by one activation. We will be also sending you newsletters to keep you informed on all news and updates. Our top priority is to protect your website. With the newest version of WordPress Theme and Plugins you can be sure that the security is on the highest level. At AitThemes we're working hard to keep you in a loop of all news and to make the process of actualisation as simple as possible.
Newest versions of themes and plugins are also available on your account at www.ait-themes.club. You can log in, download and use installations files for new domains any time. You can updated your website the old way too.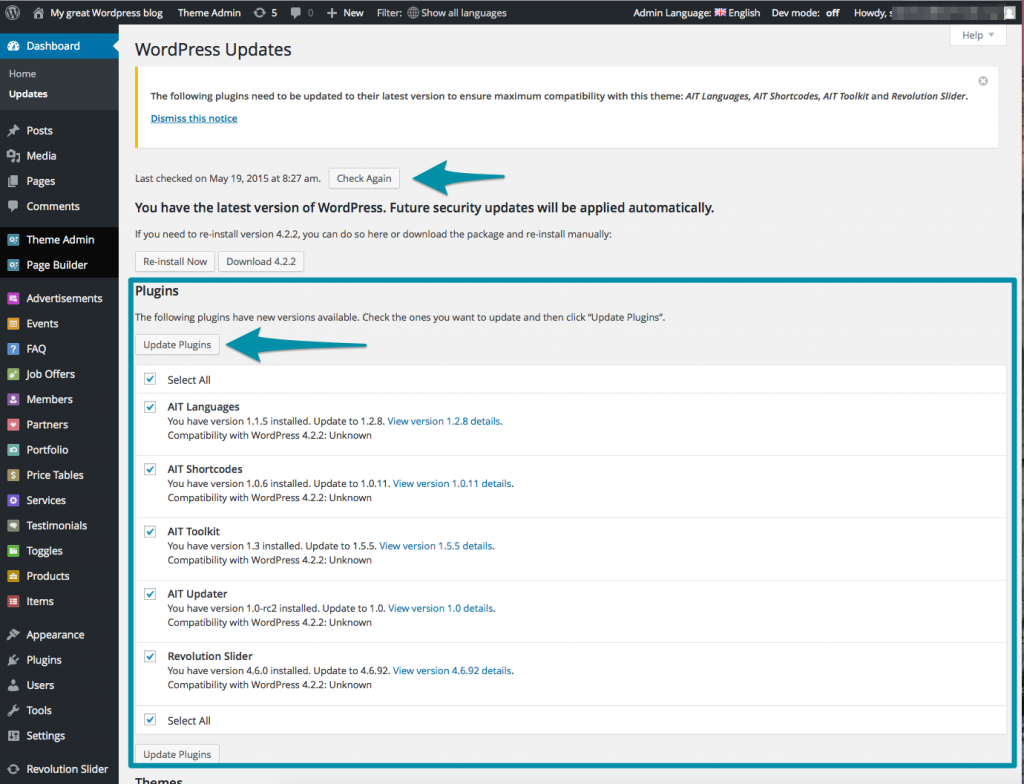 Which themes will be fitted with automated update?
New Ait Updater plugin will be gradually introduced to all themes. We've started with our latest themes build on Ait Framework 2 which includes Hoteliour, Typo, Sportclub, Retro, Band, Sushi, Gourmet, Langwith, Solitudo, CityGuide, Spa, Widescreen, Coffeebar, Anchor. Automated update for these "Translated and Multilingual Themes" includes language plugin and translation files.
When will the AIT Updater plugin be available?
Translated and Multilingual Themes (based on AIT Framework 2) sold via Club website and Anchor theme on non-exclusive Themeforest account – updater plugin issued 12. May '15
WPML Ready Themes (based on AIT Framework 1) sold via Club website – updater plugin issued 19. May '15
Themes available and sold via Themeforest only – will be available in next few weeks. We need a bit more time to develop the plugin due to implementation of Themeforest API key.
UPDATE: 8th June  2015
Today we have released new version for themes available via Themeforest only. Please check you theme and download update compatible with AIT Updater plugin. Only if you have the latest theme version installed then you can download, install and set up plugin itself.
How to make the updater plugin work?
You need to install a version of the Theme that includes AIT Updater.
Translated and Multilingual Themes – On Tuesday, 12. May 2015 updates for all Translated and Multilingual themes has been issued (Ait Framework 2). Login to your account, download installation package and install it.
Warning: It is important to follow the procedure of theme update using "Easy Theme and Plugin Upgrades" plugin.
 Please make sure the plugin is activated Easy Theme and Plugin Upgrades
 Login to your Ait-Themes.club account and download the latest version. Upload to your website.
 After the upload and theme activation to the latest version AIT Updater plugin is installed and activated automatically.
Go to Theme Admin / AIT Updater, please link your user account (Ait-themes.club) to your website here. Type in your API Credentials. Fill in your user name and AIT API key. You can choose to create backup of your plugins and themes before the automated update is made. It is recommended to tick this option to keep the previous working version in case of unwanted changes.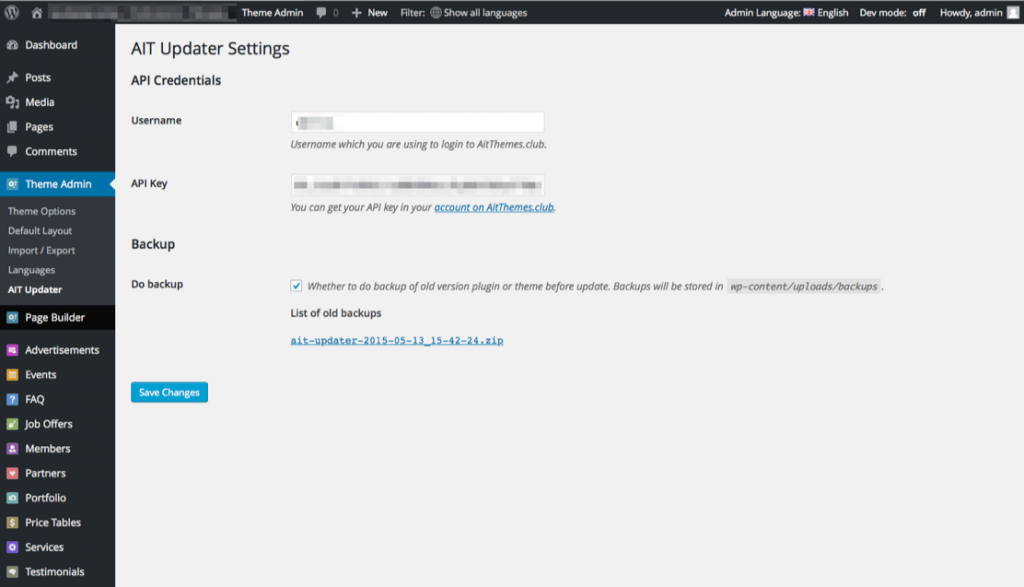 If there are no API credentials filled in in the Theme Admin / AIT Updater the automated update won't be allowed. If you've decided to use automated update going forward, there's no need to store "Easy Theme and Plugin Upgrades" plugin. This can be deactivated and deleted.
Update of the website with changes in a Theme's source code
Please remember that all individually made changes to Theme's source code will be overwritten by the automated update. How to prevent it?
Use the old way of Theme's updates.
Use SVN system of theme administration.
Child theme.
Currently we're working on additional changes in our internal system where change log files and issued updates are being administrated. You will be notified automatically which files have been changed.
Are you creating websites for clients who are editing content themselves?
If you want to prevent your client from making theme update without your consent, use Ait EasyAdmin plugin. Thanks to this plugin your client won't see update notification so they won't make any updates. They can edit contents uninterrupted without unnecessary technical concerns. By the way this plugin is compatible with all the themes, not only Ait Themes. Please read more here: Easy Admin Plugin – WordPress Admin Simplified
If you do not wish to use automated updates, please deactivate the AIT Updater plugin.