The end of the year is slowly approaching. It is a time when we evaluate the achieved results. We compare them with the plan and prepare for the next year.
It wasn't an easy year for anybody, but we did a lot of work. Big thanks to the whole AitThemes team and our customers.
This year, we had a plan to focus on new features for Citadela products and redesign our most used Directory+ theme until the Citadela theme and plugins catch up.
We divided the work on Citadela products into two phases this year.
Functions for a standard website and the basics of directory portals
Advanced properties of directory portals
Citadela Products Phase 1 Completed
The first phase has started at the beginning of the year. Besides, we produced a new DirectoryPRO layout as a replacement for Directory +. We finished it in the first quarter.
In the first phase of Citadela Products, we completed the necessary functions for creating a regular website. We believe that speed loading web pages and easy-to-use themes for the average non-technical users are those most important features. So the copywriter can change the text on the page without having to bother with the designer.
WordPress Gutenberg editor
In the near future, all websites built on WordPress will need to switch to Gutenberg editor. Its advantage is speed and intuitiveness as it is the essential building stone of WordPress. Gutenberg blocks are easy to work within the content. We are continually improving the Citadela Blocks plugin and will continue to add unique blocks.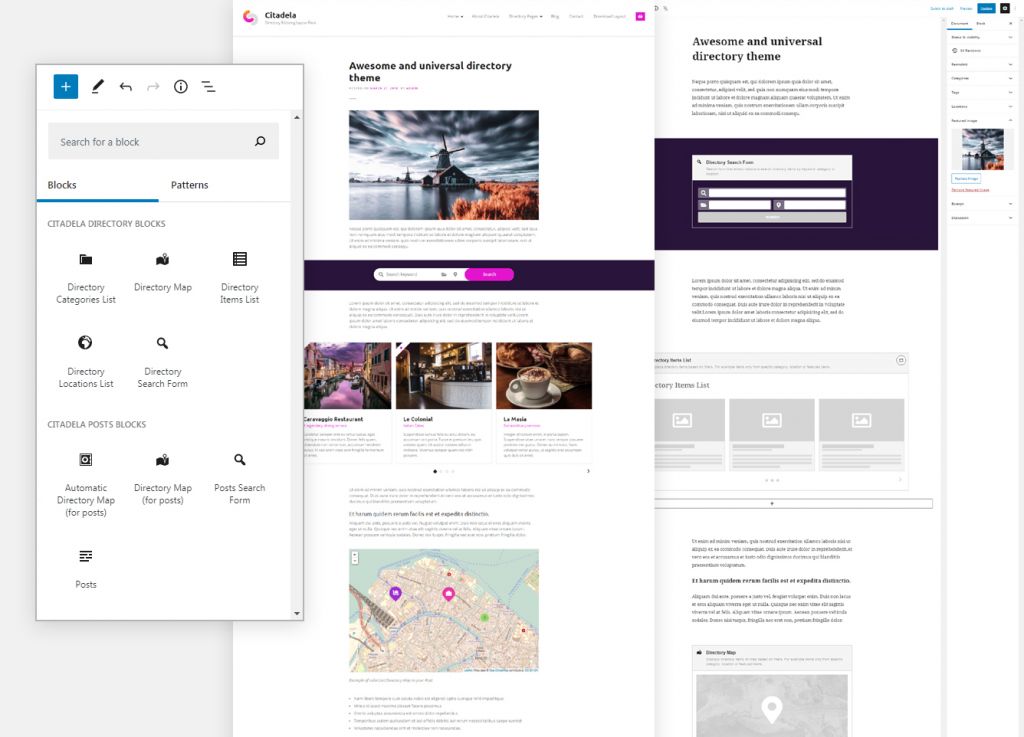 Citadela Layout Packs
Thanks to our Citadela Layout packs, it is also possible to create web pages more efficiently. How is it possible
The layout pack installs a pre-built website with subpages, images and layout text with one click. Website is ready to run immediately. All you have to do is personalize the texts and images as needed.
The year 2020 is characterized by a significant part of stores in any sector moving to the online environment. If someone postponed improving (or not creating) the website, they had to fix it this year. The next period will not be different. Online purchases can significantly increase sales, even in areas that we have not thought about it.
Food Delivery layout pack

One of our latest layouts, Food Delivery, is solving a lousy situation in the gastronomic business. Many restaurants and cafes can serve only on take-away. Streamline work and gain more customers thanks to the better-looking website.
You can find specific layouts in our offer, and we are going to add new ones. We want to be inspired so feel free to write to us what would suit you.
Automated installation of layout packs
Our Citadela Layout Pack solutions are a simple and inexpensive tool for website production. An ordinary WordPress user can easily handle this.  It is a unique tool for the valuable service of marketing agencies. A library with all layout packs is available directly in wp-admin. Try which layout works best for you.
Automated updates
The basis of a website built on WordPress is regular updates. They ensure its safety in the first place. New features also come with new updates. For easy maintenance, we have made an automated download of updates. Everything is available in wp-admin. Now you can find out our latest updates for WordPress 5.6
Get unique features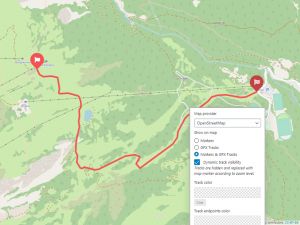 As part of this first phase, we also implemented the essential functions for listing websites. These are the basis for creating a portal website with catalogue content.
We have also added a new dimension to them. With the Citadela Directory plugin, you have a unique tool for a new content format on all types of websites. For the business, blogger or non-profit organization. Let's inspire yourself.
The second phase in full swing
The second phase of Citadela products is currently underway and will continue in the first quarter of 2021 estimated. It includes the completion of the development of just those features for Citadela products that are critical to website directories. See more information about upcoming plans. The comparison of directory templates may be suitable for you as well.
With the second phase, we will match the functions of our older directory templates. Our goal is for existing customers to be able to move to the new Citadela solution, gaining better, faster and modern technology for their existing website. 
The third phase
There are many new features on our to-do list. We plan to add many innovative and complex functions such as complex bookings or events solutions. Also, more features for better monetization. We will inform you in advance, and most importantly we would like to discuss it with you to find out exactly what you need.
Citadela is currently the best Gutenberg directory solution you can find, period. By adding all these new features, it'll be basically the only solution you'll ever need for a business, blog or listing website.
Stay informed throughout the year
For your better monitoring of the development of our products, we issue a regular quarterly report. And not only that. We have started publishing our action plans and short-term plans. Follow everything on our blog in the AitThemes News category.
With a view to the further development of unique functions, we bring you now a better and better solution for directories as well as standard websites.
This year has been tough for all of us. We are facing a hitherto unknown situation for us. By working together, we can overcome challenging moments.
"The secret of change is to focus all of your energy, not on fighting the old, but on building the new." (Sokrates)