What's new in the Club
First few weeks of 2015 are gone so let's take a look what's new in Ait Themes Club. We were working hard right from the beginning of the year and in total we managed to add 63 new items to our club.
Great advantage of Premium memberships is that you get access to all our products for unbelievable price. More products we add, lower the price per item will be. After 5 years of existence of Ait Themes we created tons of different themes, graphics assets, HTML templates or icons. So far we were selling most of them via 3rd party resellers.
Premium Membership with increasing benefits and decreasing prices?
In January we have reorganized our products a little bit. We've added new items into our portfolio that you can purchase from our website but are also available to all Premium Membership customers for free. These new items include themes, plugins, graphic icons, PSD files, Skins and HTML templates. Some of the plugins are compatible with all themes, including 3rd party themes made by other developers.
Subscribe for Premium Membership. It's only $0.49 per product.
Lot of our customers were asking if themes that we sell on Themeforest will be available on our Ait Themes Club website. Due to an exclusivity agreement with Envato we cannot sell themes that are available on Themeforest via our website. We've made a decision and started moving selected themes to our Ait Themes Club. Based on our customers feedback we've made a good decision. Themes are very unique a different from themes that were already available in the Club.
15 Ait WPML Ready WordPress Themes that are very different from themes sold by any competition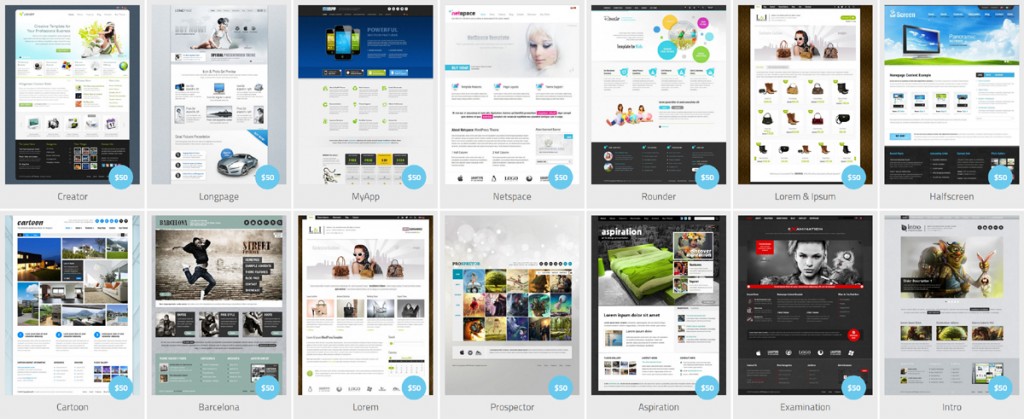 Timeless pixel perfect designs, specialized themes that will help you  create corporate websites, product pages or portfolio presentations. Long page design, menu inside slider or other unique things. The only disadvantages of these themes are lack of page builder and lack of built in translations.
Themes are build on Ait Framework 1, include wide range of segment specific features, WPML compatibility with simple administration, various sliders and adaptive design. Themes have variable home pages, useful shortcodes and portfolio layouts. Some of then have also Skins available that will simplify your website customization.
Each theme includes specially developed features and elements for it's specific segment. Apart from that you will get all amazing business features you can use anywhere on your website.
Total value of products: over $750
We plan to move more themes from themeforest in upcoming weeks
New WordPress theme for bars, restaurants and hospitality sector that is compatible with easyReservations plugin

CoffeeBar theme demo presentation is styled with cafè or bar images and colors. It does not mean you cannot use different colors or more colorful images on your website.
Main features of the theme are:
Product element – helps you create food and drink menu extremely easily.
EasyReservation plugin – you can use it to offer online reservations of you table, event or accommodation. You can therefore use the theme also for hotels or B&Bs.
WooCommerce plugin – would you like to offer food delivery or sell products? Using top class WooCommerce plugin you'll turn your website using CoffeeBar theme into food delivery or catering website.
Full screen images with unique effective sidebars and fully responsive design. Website elements are designed to make your work as simple and fast as possible. Flexible WordPress theme that will allow you to set up all details you need using admin panel without any programming skills. Professional presentation of your services, products, events or special offers.
CoffeeBar theme can be used for: café, pizzeria, tearoom, bistro, restaurant, nightclub, bar, grill, ice-cream parlor, dive, cake shop, soup house, coffeeshop, fast-food outlet, sandwich shop, snack bar, pit stop, canteen, lunchroom, food delivery website.
Total value of products: $55
Brand new themes coming soon
3 new unique Ait Plugins

 Announcement Bar: $5
Allows you to present any important announcements on your website. You can add a simple announcement bar at the top of all pages. Users can click on the bar to be brought to a specific url. You have full control over HTML and CSS. Schedule start and end date. This plugin is compatibile with all Themes not only Ait Themes.
Quick Comments: $25
Fast and effective way to get in touch with your customers. Pre-sale questions, product comment or any other question. Let your visitors or customers contact you faster. Quick Comments provides you with fixed panel visible on all pages so visitors can contact you immediately. This plugin is compatibile with all Themes not only Ait Themes.
Total value of products: $30
New brand new plugins are under development
50 Graphics assets

Hot news for all City Guide customers are custom built icon sets. You can use them for Item Category or to show Pins on the map. Icons can be also used for our older portal themes. 590 unique category and 590 map icons in various colors.
We've also added different PSD design files that were not coded into WordPress, HTML templates or Skin sets for some of Ait WPML Ready WordPress themes.
Total value of products: over $610
New assets will be added soon
1 new language – Croatian translation
Thanks to one of our customers we're bringing you one more language translation – Croatian. Just pick up your language and theme will do everything for you. If you'd like to have multilingual website, just pick more languages.
We currently have 22 language translations + English, all translations are currently worth $13 200! It's unbelievable. You might not need all these languages today, but what if you create a world wide portal website tomorrow? You never know. It's great to have 14 different WordPress themes translated into 23 languages.
Total value of new translations: $600
Total value of all translations: $13200
Periodical language translation updates
 Let's add everything together
Total value of products added in 2014 was $715. In 2015 we've already added products with value over $1445.
14 Multilingual themes: $770
15 WPML Ready themes: $750
7 Plugins: $90
50 Graphic assets: $610
Total value of all items: $2220
Get access to all current and also future themes, plugins and graphics asstes in the upcoming year. This price will be fixed for you forever even though we'll decide to increase the price for our Premium Membership. Premium Membership is great for all freelancers, web designers, marketing or graphical companies but also for end users. If you just need City Guide theme, plugins and graphic assets it's better to get Premium Membership instead of purchasing single products separately. You won't have any limits and get all our products for unbelievable price.
Join Our Club for an Unbeatable Price.Premium Membership for only $149.